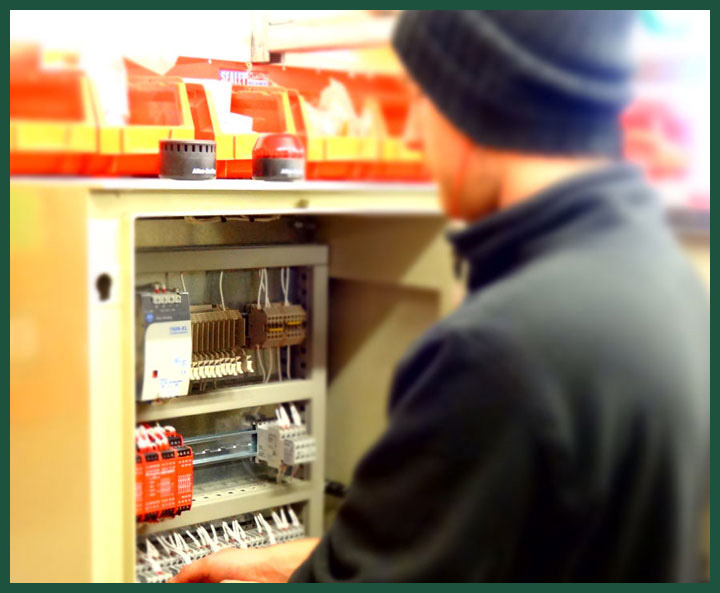 Established in 1986, Advanced Electrics Ltd has provided an experienced, friendly, efficient and personalised service to the Distilling industry for over 25 years. Our custom built premises are situated in Mulben, just a few miles from the town of Keith.
Starting with a workforce of just two, in the last 27 years we have now increased to a total of 20 employees, which include a mixture of Apprentices, Electricians, Technicians and Instrumentation Engineers.
The high standard, quality of work and personal service offered by Advanced Electrics Ltd means we have built up an excellent reputation in the food, processing and distilling industries.
At Advanced Electrics we can cater for all types of industrial electrical works from a simple lighting and power installation to a full Distillery automation.
We specialise in the manufacture and installation of motor and process control panels, all being designed and built to meet our customer's individual high standards using the latest components available. These can form part of a 'stand-alone' or full automation system, for which we can design PLC and SCADA systems to suit. Along with this we can supply, calibrate and commission a wide variety of level, temperature, flow and control instrumentation to suit a variety of processes and customer needs.
As of Monday 10th August Advanced Electrics Ltd will be situated at their new address of: UNIT Q1 ISLA BANK MILLS STATION ROAD KEITH AB55 5DD TELEPHONE: 01542 888457
Having outgrown our existing premises at Mulben, Advanced Electrics have been busy over the last few months preparing our new much larger offices, store and workshop and are now excited to share our new address and move in date with all our customers, suppliers and friends.
Advanced Electrics will be opening and working from our new premises on Monday 10th August.
If you could make any amendments to your records where required, this will ensure no disruption to any of our mail etc. this would be much appreciated. (No changes to any existing bank details, email addresses and mobile numbers).
Please feel free to pop in, say hello and have a look around!
If you have any questions or concerns in the meantime please feel free to contact us on 01542 860371.